Inazuma Japan is the main team in the 3rd season of Inazuma Eleven.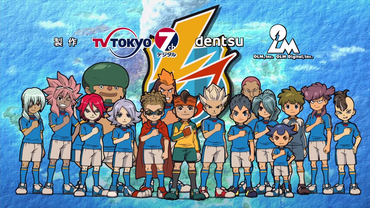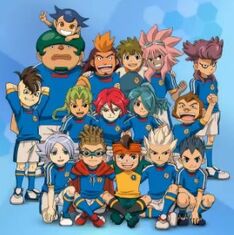 Inazuma Japan's uniform is blue with white shorts and blue shocks,the goalkeeper's is yellow with green shorts and black shocks,the second goalkeeper's uniform is grey with grey shorts and white socks.
1/15.Endou Mamoru (Goalkeeper/Libero/First Captain)
2.Kazemaru Ichirouta (Defender/Midfielder/Third Captain)
3.Kabeyama Heigorou (Defender)
4.Tsunami Jousuke (Defender)
5.Kurimatsu Teppei (Defender/Midfielder)
6.Kogure Yuuya (Defender)
7.Tobitaka Seiya (Defender)
8.Fudou Akio (Midfielder)
9.Fubuki Shirou (Foward/Defender)
10.
Gouenji Shuuya
(Foward)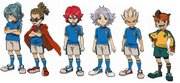 11.Utsunomiya Toramaru (Foward)
12.Hijikata Raiden (Defender/Midfielder)
13.Midorikawa Ryuuji (Midfielder)
14.Kidou Yuuto (Midfielder/Second Captain)
16.Sakuma Jirou (Foward/Midfielder)
17.Someoka Ryuugo (Foward)
18.Kiyama Hiroto (Foward/Midfielder/Fourth Captain)
20.Tachimukai Yuuki (Goalkeeper/Midfielder)